The Leading Home Tuition Agency for Students in Singapore
Edu Aid is Singapore's preferred team of home tutors in Singapore, offering a range of tuition right at home, creating a personalised touch and dedicated attention. The one-on-one approaches allows for students to build on their personal strengths, discover their weaknesses and learn exactly how they can approach tests, assignments and future studies.
Why choose Edu Aid Tuition Agency?
Looking for a tuition for your child? Are you bewildered by the sheer number of private tuition agencies in Singapore? Do you have the fear that your child's grade may not improve if he does not have a good tutor? Fret not! Edu Aid Tuition Services provides the best tuition service in Singapore for you!

Edu Aid is a tuition agency in Singapore that will help you to find the best tutor for your child, according to any special needs. It is generally agreeable that much emphasis has been placed on academic success and thus, every parent would want the best for their child. This has led to the perception that one-to-one tuition incurs high financial cost to the family. However, our tuition agency will find the most appropriate tutor that caters to the specific budget allowing students to have access to tuition.

We provide services for all levels ranging from primary school, secondary school, Junior college and even international education such as International Baccalaureate (IB) and International General Certificate of Secondary Education (IGCSE). Our tutors are specialized in subjects such as Maths, Science, English, Chinese, Tamil, etc. We strive to cater to the need of all students in Singapore.

Though we can see the benefits of having a tuition, some parents may feel that it is unnecessary to spend "so much" money. Well, this small amount of "investment" can actually bring a bright future for your children in the long run. In this results-oriented society, our children have to perform well academically and we strive to deliver the best for your child. Our tutors provide one to one guidance, patiently, that will definitely improve your child's grades. Do not neglect the importance of the 1-2 hours of tuition, it can help your child to clarify any concept in school and consolidate all his learning.

We are the trusted tuition agency in Singapore that promise to help each and every student towards academic success.


reliability
Trusted tuition agency in Singapore

service
We provide the most comprehensive service for you

EXPERIENCED TUTORS
All our tutors' credentials are verified before assigning them to you

Various Subjects
Wide range of subjects that cater to all needs of the students

EFFICIENCY
Quick to respond your queries with our efficient system

CUSTOMER ORIENTED
Perfect match of student and tutor with any special needs
Check out what our client say about us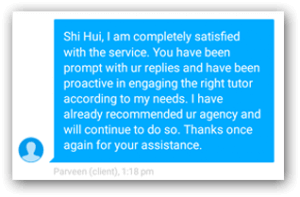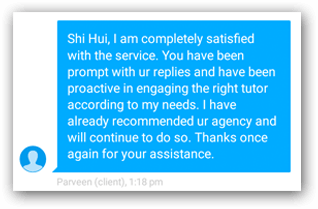 Parveen
Shi Hui, I am completely satisfied with the service. You have been prompt with your replies and have been proactive in engaging the right tutor according to my needs. I have already recommended ur agency and will continue to do so. Thanks once again for your assistance.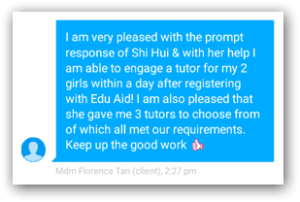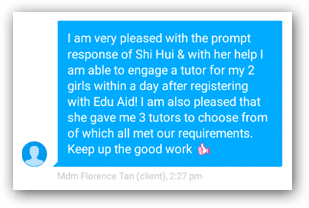 Mdm Florence Tan
I am very pleased with the prompt response of Shi Hui & with her help I am able to engage a tutor for my 2 girls within a day after registering with Edu Aid! I am also pleased that she gave me 3 tutors to choose from of which all met our requirements. Keep up the good work!
Home Tuition Service for
Various Subjects, Levels and Examinations
We nurture and provide the best tuition services for every student that is registered with us, aiming towards academic success that can shape their future. From tutors for primary school students to tutors for secondary and JC physics tuition, our home tutors are all experienced and knowledgeable in various topics, and have a firm understanding of various approaches and methods for learning.
With a personalised approach to learning, we welcome all children of varying levels, from those trying to get their grades up to those struggling to understand school concepts. If you're eager to get your child started with us, request a tutor today, or get in touch with our friendly team for more information.
SUBJECT LEVELS
EXAMINATIONS
LANGUAGE & LITERATURE
SCIENCE & MATH
HUMANITIES SUBJECTS
OTHER SUBJECTS